RGB Classic™ Laser Projector
Bluetooth Edition
Instantly bring awe-inspiring stunning theme park quality laser lighting effects to your home in seconds. Now featuring Bluetooth Connectivity with built-in waterproof speakers!
SHOP NOW
featured products
The Brightest and Smartest Laser Projectors on the Market Four Years Running
Cover up to 3000 Sq. Ft. Space in Seconds!
Quality Diffraction Optics & High Output Laser Diodes
We use industry leading 19,500dpi diffraction glass available to break the single laser beams down into thousands of dots of color.
With dual, triple and deluxe RGB models available, we have over 300% more diffraction power versus other brands!
READ MORE
Custom Remote Controller
Select color(s), control speed, strobe mode, timer, transition mode & more with our convenient included remote controller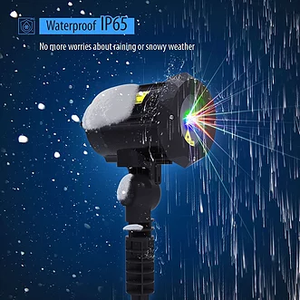 IP65/IP44 Waterproof Rating
Dust tight and water sealed, our laser projectors offer year round operation and protection against outdoor elements


Operate in Very Cold Climates
Our industry leading internal thermostats allow our brand of projectors to be operated at temperatures as low as -31F
CUSTOMER TESTIMONIALS
These lights are awesome! The White Snowfall Laser gave my house a cool and unique holiday light display.
Everyone commented how wonderfully bright and vivid the light displays were from my two RGB Classic lasers.
I've been a fan of these laser lights for years, have bought several models and they always delight me and my neighbors.
I love my Deluxe RGB lights! No hassle set up and they hold up great in the cold, rain and snow from Halloween to Christmas.